New! TypeRocket Pro is now available. Compare versions.
Installation
( Open v2 )
Environment
The TypeRocket framework has a few system requirements.
PHP >= 5.3
WordPress >= 4.0
PDO PHP Extension
Friendly URLs
Installation
To install TypeRocket 2.0 you need to download it from GitHub into your theme. Make sure you name the TypeRocket folder as typerocket.
Note: You can rename the folder later on.
Initialization
At the top of your themes functions.php file require typerocket/init.php. This will initialize TypeRocket and complete the installation.
<?php // functions.php

require ('typerocket/init.php');
Configuration
Before you can get started you need to configure TypeRocket. All configuration will be stored in a configuration file called config.php that you need to create.
The configuration file needs to be created within the typerocket folder. To help you, there is a config.sample.php file that you can duplicate and rename to config.php.
Enable API: Flushing Rewrite Rules
To enable the REST API needed for TypeRocket to function properly you need to flush the WordPress permalinks. This is because the REST API registers rewrite rules. You can flush the permalinks by going to in the admin:
Settings
Permalinks
Scroll to the bottom of the permalinks page
Click "Save Changes"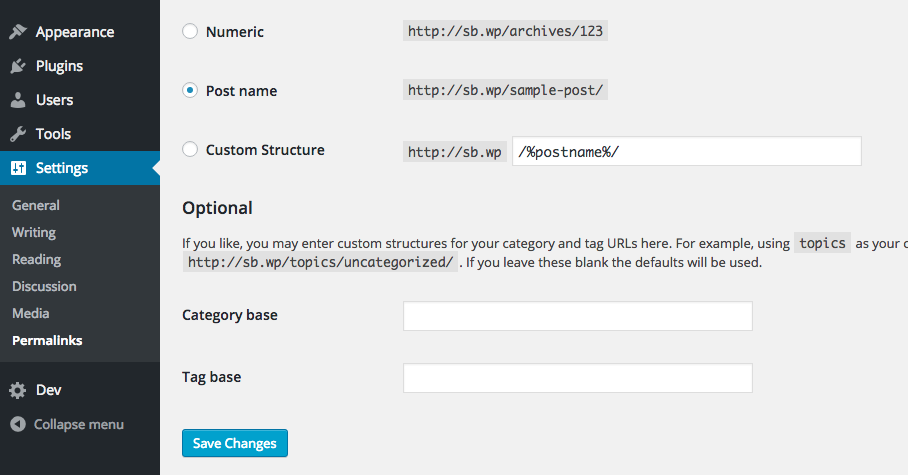 Note: Any time you register a post type or change a post type ID you need to do the same.